Also called "Ghassoul", rhassoul is a natural clay from the Atlas Mountains in Morocco. Since the dawn of time, women have used it for the care of their hair and skins. If you like natural products and prepare your homemade cosmetics and, rhassoul will quickly become your beauty ally!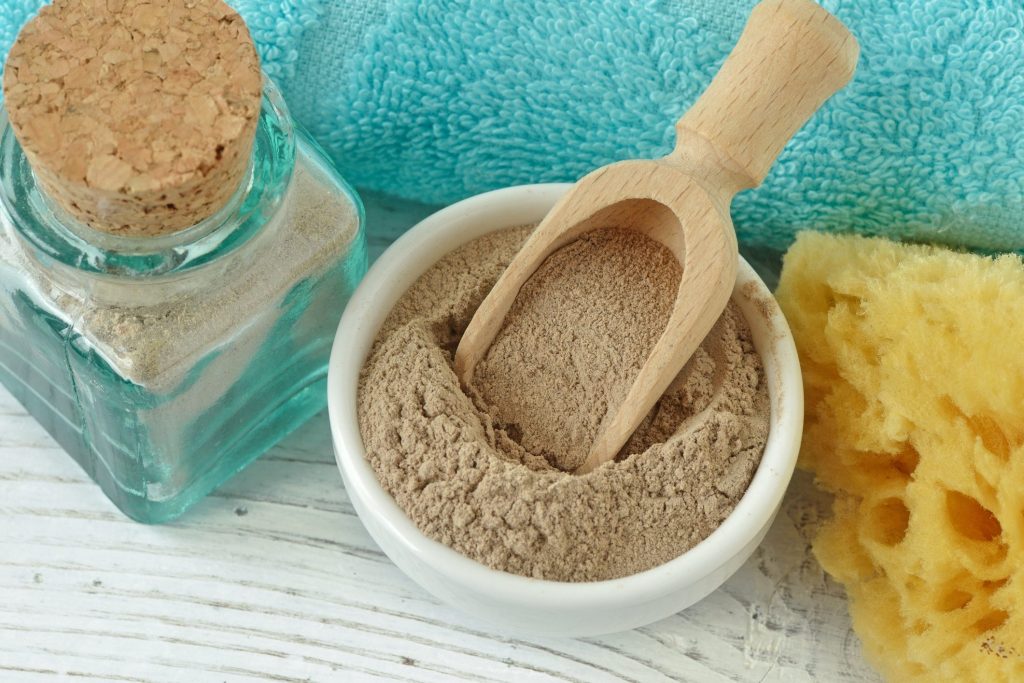 In Morocco, rhassoul is one of the essentials of the hammam ritual, like black soap and horsehair glove. Used for skin and hair care, it is one of the traditional beauty secrets that generations have passed down for millennia.
What is rhassoul ?
Rhassoul – or ghassoul – is a natural volcanic clay collected only in Morocco, in the Atlas Mountains. It is given excellent purifying and cleaning properties. Also called "Earth that washes", rhassoul has a very strong capacity of absorption and adsorption of impurities and toxins, which allows a deep but gentle care. Extremely rich in minerals such as magnesium, iron, sodium, zinc, phosphorus and potassium, rhassoul has cleaning, exfoliating, regulating, soothing, softening properties. It is therefore ideal for all skin and hair types without damaging them.
How to prepare rhassoul?
The preparation of rhassoul is extremely simple. You just need to mix the clay in equal quantities with lukewarm water until you get a smooth paste.
The benefits of rhassoul on the face
Cleans all skin types: rhassoul cleans impurities and absorbs toxins without damaging the protective hydrolipidic film of the skin.
Balances oily-prone skin: rhassoul helps eliminate blackheads while regulating sebum secretion.
Unifies the complexion and refines the skin texture: rhassoul tightens large pores and gives the skin a "baby skin" appearance.
Softens, satinates the skin and gives a healthy glow effect
White rhassoul lightens the skin and restores radiance to dull skin
The benefits of rhassoul on hair
Cleans and degreases hair and scalp (use in shampoo)
Gives resistance and strength to hair
Softens and shines hair
Helps regenerate the scalp by reducing dandruff and itching
Some rhassoul recipes
1. Rhassoul shampoo
In a small bowl, mix:
– Two tablespoons of rhassoul
– Two tablespoons of apple cider vinegar
– A tablespoon of honey
Dilute the whole with a little water and possibly a little lavender water until you get a paste with a consistency similar to that of a shampoo. Apply the preparation on the entire hair beforehand. Massage to make the clay penetrate well, then leave on for about 5-10 minutes. Rinse thoroughly while combing your hair.
2. Face mask with rhassoul and rose
In a bowl, mix:
– A tablespoon of rhassoul
– Two tablespoons of rose water
Apply a thick layer on the face and leave on for ten minutes before rinsing off with clean water.
3. Rhassoul body or face exfoliant
In a bowl, mix the rhassoul with a little lukewarm water or hydrosol, until you get a smooth paste. Apply the preparation to the face and / or all over the body and massage in circular motions. Insist on the elbows, knees and heels. Leave on for 5-10 minutes, then rinse thoroughly. To complete the treatment, apply a hydrating treatment.
4. Hair mask
In a bowl, mix the rhassoul with lukewarm water or a hydrosol (floral water), a few essential drops (ylang-ylang, lavender …) and vegetable oil (castor, coconut …). Apply the preparation to the entire hair including the roots. Leave on for about 30 minutes, then rinse.