In this video I cut my own short haircut Pixie Bob Garson step by step. There are many names for this haircut, I have chosen the most popular. Short haircut Pixie Bob Garson is a haircut that you can cut yourself and you will have a beautiful haircut on short hair Pixie Bob Garson with bangs.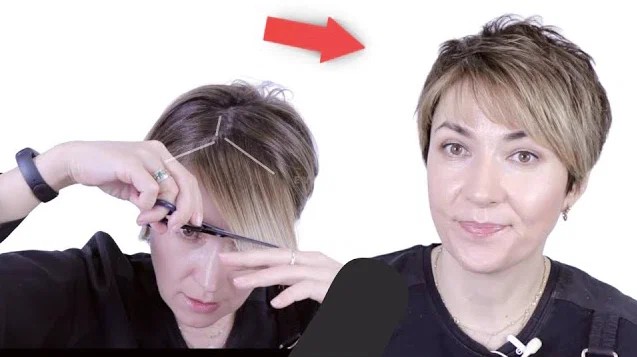 Who is suitable for Pixie Bob Garson haircut with bangs?
Pixie Bob Garson haircut is suitable for those who want to visually emphasize the volume on the crown and look younger.
This Pixie Garson haircut can do a facelift effect.
Because by adding volume to the top of the head, we redirect the volume from your face to the top of the haircut.
With hair volume, a person's face is visually reduced and vice versa – if there is no hair volume at the top – the parietal area and the crown – then the entire face volume will be even more emphasized.
Haircut Pixie Bob Garson with volume is suitable for those who do not like long hair styling.
Also Pixie Bob Garson haircut with the right hair color gives sparse hair a feeling of thick hair.
I just have different hair color in this video – lighter hair in the front of my face and darker hair in the back.
What hair can I cut the Pixie Bob Garson haircut on?
On all hair – on thin and sparse hair, on thick and stiff hair, on curly and curly hair. All hair types can be cut Pixie Bob Garson Haircut.
Enjoy watching!