Having greasy hair is always painful, especially when you shampooed the day before!
However, it is better to avoid washing your hair too often, otherwise it will become more fragile.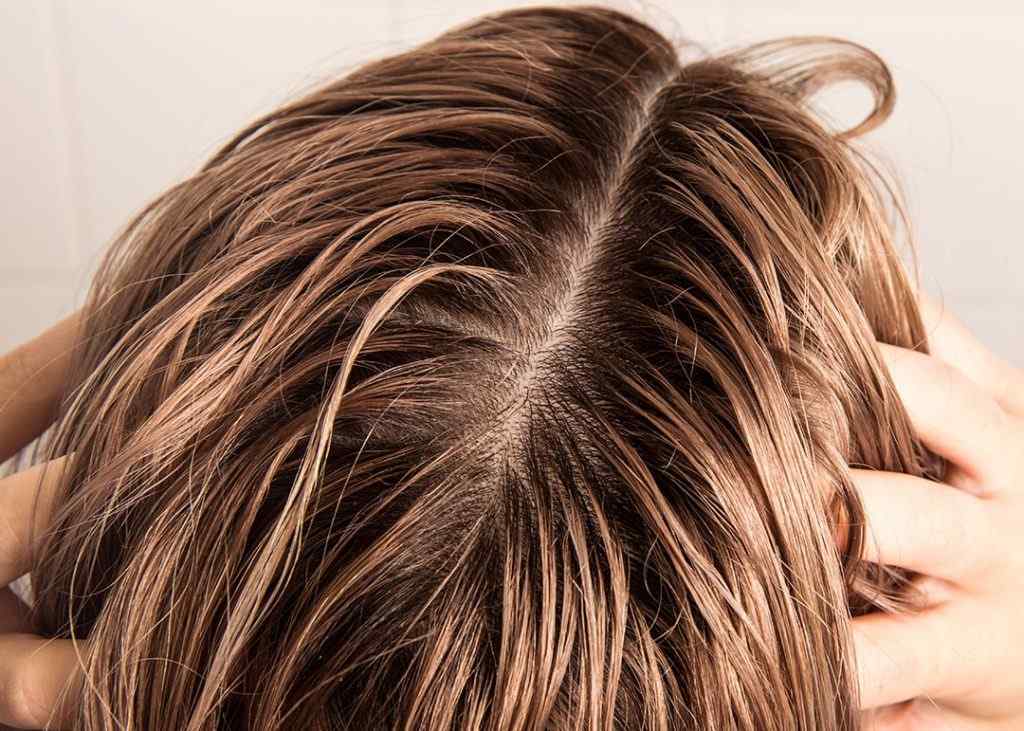 In the same way, we avoid any overstimulation because it tends to increase the production of sebum and therefore to grease the hair. "We limit as much as possible massages, styling mousse, hairspray, untimely hand passages in the hair, washing with too hot water, the hairdryer too hot …", warns Elodie-Joy Jaubert.
In parallel, you pamper your hair with natural care, easy to perform at home, and suitable for oily scalp.
1. Baking soda
Baking soda has many virtues. Among these, its action against oily hair. To take advantage of it, "pour your usual dose of shampoo into your hand and add a teaspoon of baking soda. The bicarbonate has an astringent effect and will regulate the pH of the scalp," says the specialist. After applying your shampoo, you just have to rinse it off.
2. A green clay mask
Green clay is an ingredient widely used in homemade cosmetic care. It is thus an ally of choice for facial care but also an interesting natural remedy against oily hair. "Green clay is very absorbent. You can mix it with water and apply it with your finger or with a brush on your scalp. Let the hair mask sit for about twenty minutes. This helps absorb the excess sebum and toxins. The scalp also breathes better, "says Elodie-Joy Jaubert.
3. A homemade dry shampoo
Between two shampoos, you can opt for a dry shampoo. Fast and efficient, it saves you from over-washing your hair and gives it a clean look. To achieve this, Elodie-Joy Jaubert suggests mixing cornstarch or rice flour with powdered white clay. "You pat this mixture with a brush on your scalp. Be careful not to put too much on it. You wait 1 min or 2 and brush your hair." Result: your hair is visibly less oily!
4. Apple cider vinegar
No need to invest in many expensive cosmetic products to get rid of oily hair. A quick trip to the kitchen should be enough! Do you have apple cider vinegar? So, in a sprayer, pour 1 liter of water and 2 to 3 tablespoons of apple cider vinegar. As soon as your hair seems a little too greasy, spray your lotion on your roots to regulate the sebum.
5. A nettle shampoo in addition
To take care of your hair, you can swap your usual shampoo for a nettle shampoo. This plant with multiple properties helps, among other things, to fight against hair loss and to regulate the secretion of sebum. Another alternative, oat milk shampoo, also very effective against this problem.
Finally, if your hair really greases a lot, deep work can be useful. "It will consist in thinking about your diet, making sure it is not too sweet for example or even to see if there is not a hormonal cause behind …", suggests Elodie-Joy Jaubert . You should therefore find clean hair in the long term.