To end the straw bale effect in your hair, opt for skincare rituals based on 100% natural ingredients. Rich in vegetable oil and butter, these homemade recipes will restore discipline, softness and shine to your hair!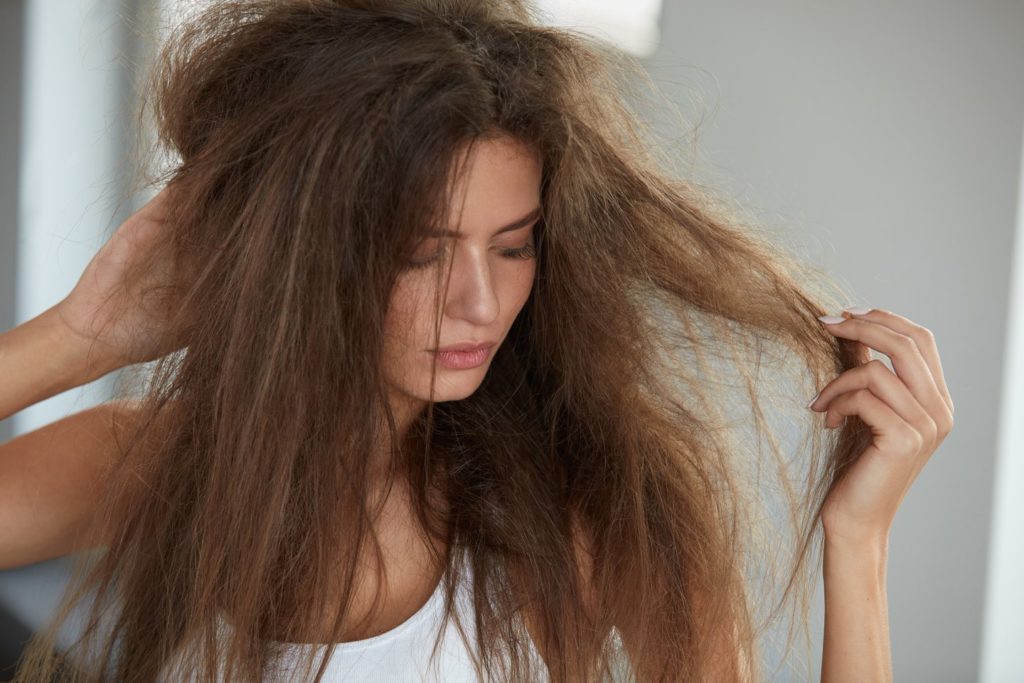 Hair straighteners, hair dryers, colorings, UV, wind, cold, all factors that affect the health of your hair. They become damaged and as dry as straw. Thus, the broken scales of your hair prevent the cells from renewing themselves at the root.
The sebaceous glands no longer produce enough sebum. Less well protected, the hair becomes dry, coarse and forked. Dry hair thus needs to regain shine, hydration and radiance.
To nourish dry hair
Essential oils: To say goodbye to forks and nourish damaged tips, we opt for the effectiveness of essential oils of geranium, palmarosa and cade wood.
Avocado: For brunettes, mix half an avocado and mix it with 5 squares of organic dark chocolate and 2 tablespoons of olive oil. Apply to your hair while massaging to make it penetrate. Leave to act for 15 minutes. Rinse.
Honey: For blondes, we prefer the homemade mask with honey, which can slightly lighten the hair color. Mix 2 tablespoons of honey, 4 tablespoons of olive oil and an egg yolk. Gently apply the mask to your dry hair and leave on for 20 minutes. Rinse thoroughly and wash your hair with your usual shampoo.
Smooth and discipline the hair
Followers of repeated brushing can testify, the heat attacks the scalp. However, there are natural straightening methods so as not to systematically expose your hair to heat. How to straighten your hair naturally? Here is a foolproof recipe for a 100% homemade hair straightening mask. As surprising as it may be, the rice water mask is very effective in disciplining dry hair. For this, we cook a dose of organic rice in simmering water. We only collect the water and let it cool. It is applied to the hair and left on for about 15 minutes before rinsing off with clean water.
Another ultra effective tip for straightening your hair: the kardoune. A traditional Algerian technique which consists in firmly wrapping a woven cotton ribbon – the kardoune – around her hair. Ideal for long and medium-length hair, leave this magic ribbon on overnight. This formidable technique will protect your hair from friction and soften it naturally without heat. The kardoune does not prevent the hair from breathing because its fabric allows good ventilation. Upon waking, no more curls or frizz, the hair is soft and smoother.
To enhance the curls
Dry hair is often voluminous and unstructured. To control them and create plump curls, hydrate deeply. Dry by nature, your hair needs specific care and special attention which requires regular hydration, especially with this homemade mask. Mix 1/2 tablespoon organic mango butter with 2 tablespoons coconut oil and 2 tablespoons organic avocado oil.
Apply the mixture on your lengths and ends then gently massage the locks to sheath all the hair well and be able to create the curls. Leave on for about 1 hour under a warm towel. Rinse and wash with your usual sulfate-free shampoo. Once the hair washed and rinsed, we wring it out with a towel but especially without rubbing, which could undo the curls.
It is dried either with a diffuser hair dryer which distributes the heat over the entire capillary mass, or in the open air if the temperature allows. Another tip to avoid breaking the curls: we detangle the hair before drying, ideally during shampoo or conditioner. Once the hair is dry and the curls are well plumped, you no longer comb. You can possibly ventilate with your fingers.
To restore shine and shine
For healthy, shiny hair, it needs to be thoroughly repaired. Rest assured, we have a very effective natural solution: the oil bath. Sweet almond oil and olive oil are in the spotlight for dry hair.
To make a mask that will restore radiance to your rebellious mane, mix 4 tablespoons of sweet almond vegetable oil, an egg yolk, a spoon of honey and lemon juice.
Add apple cider vinegar until you obtain the desired consistency. Apply to dry or damp hair for about fifteen minutes. Rinse thoroughly and do your usual shampoo. This mask will restore vitality, strength and shine to your dry and dull hair.